About AI, People Never Know What Will Happen Next
If one word should be chosen to summarize this year, then that word must be AI (artificial intelligence). Almost every media platforms have ever reported, "in this century, the game between China and the US is no longer the game of spatial exploration or the game of nuclear weapons, but a game named artificial intelligence." This year has witnessed a significant growth in the US exploring the artificial intelligence.
First in May, NVIDIA spent 3 billion USD to develop AI chip. In the same month, we saw how Google AlphaGo beat Ke Jie, the Chinese champion in the game of Go. In November, Facebook rolled out AI system to detect suicidal posts, which is another successful application of AI system.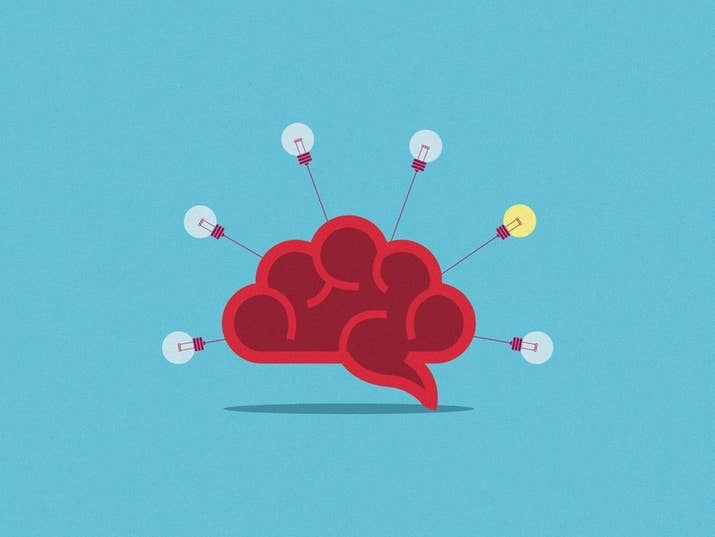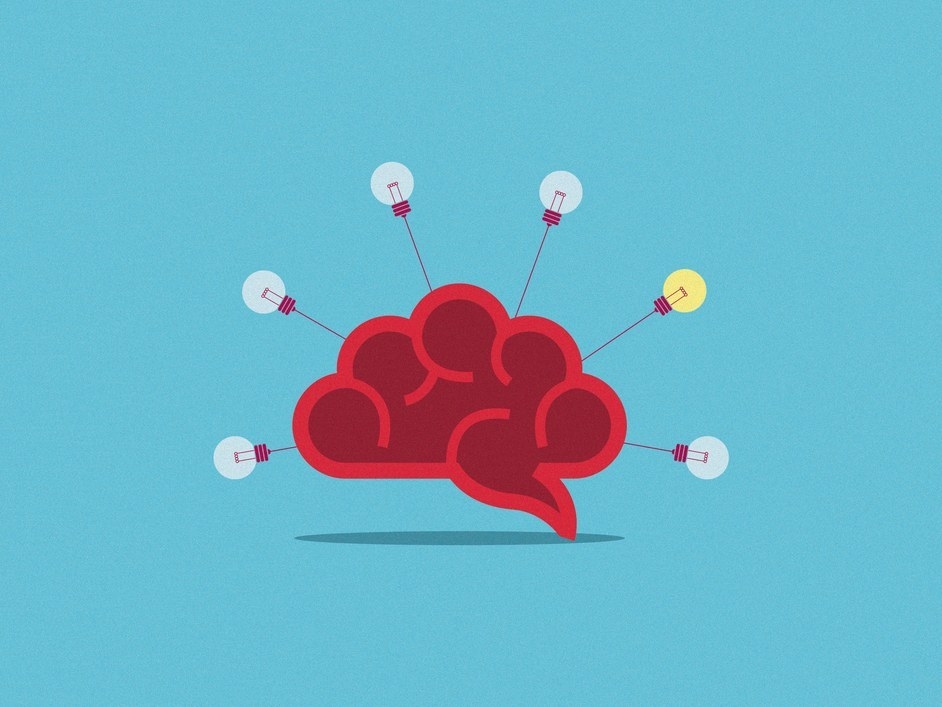 The US has made huge progress, while China is catching up with it as well. Similar to the US, where some giants such as Apple, Google, Microsoft, Amazon, and Facebook actively deploy AI applications into the market, Chinese internet tycoons such as Baidu, Alibaba, and Tencent are racing to control the market as well. In June, Tencent announced it would enter the field of AI officially. In July, Baidu displayed the open source self-driving system called Apollo at the Developer Conference. In October, Alibaba was reported to invest hundreds of billions of RMB to establish the Alibaba DAMO Academy (
The Academy for Discovery, Adventure, Momentum and Outlook
) and would set labs of AI all around the world.
A study shows that though China and the US are neck and neck in the field of AI, they have different preferences in developing AI system. It has been a long time since the US started to develop AI and it has acquired significant progress in the basic layer, technical layer, and application layer. But the investors always pay more attention to the basic layers. While it is not very long since China began to develop AI. But it has acquired a rapid growth especially in application layer, which have attracted more investment than other layers.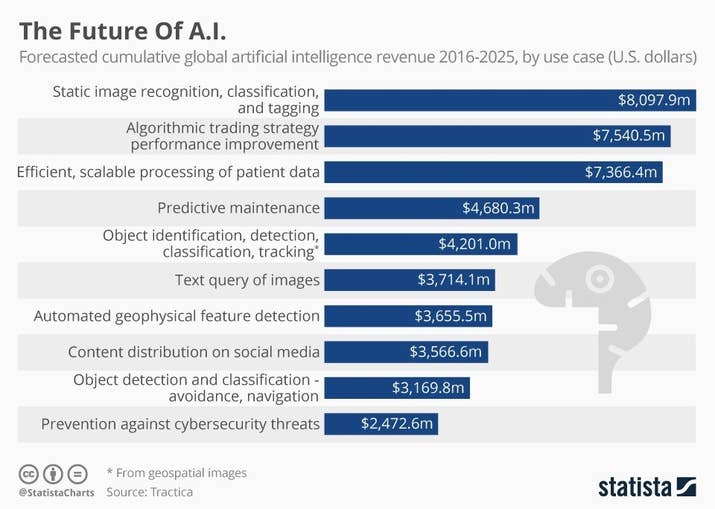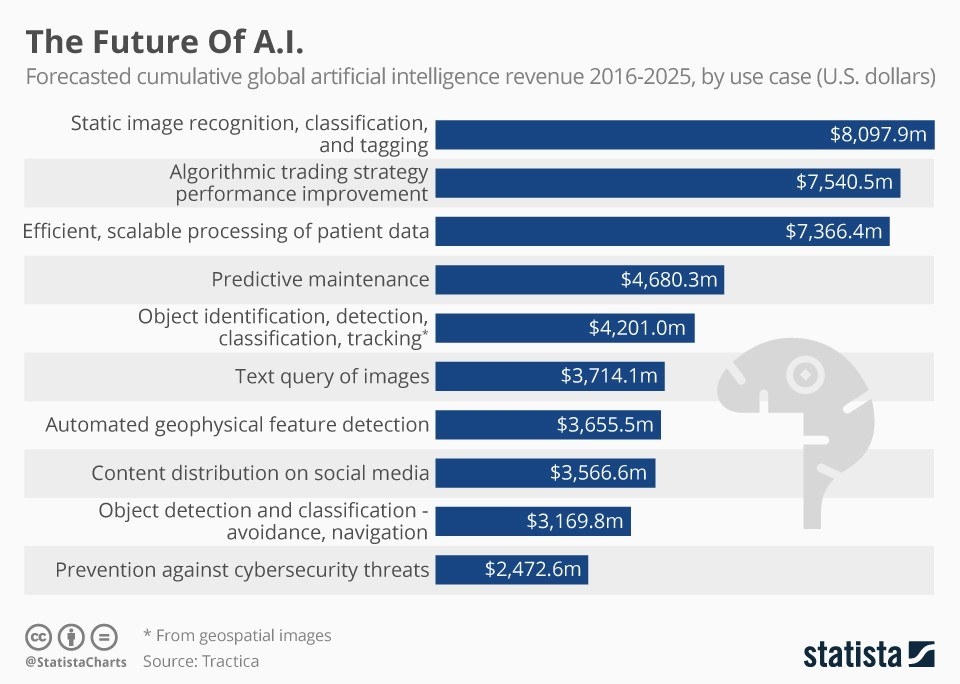 No doubt AI has changed the world. Billions of people have become the beneficiaries of AI especially Chinese people. In China, more companies are trying hard to complete practical application of AI. In 2016, live stream platforms or apps sprung up, which generated considerable demands of content moderation. In the past, such platforms always hired people to review the contents. But with the emergence of AI, such tasks can be transferred to the machines.
For example, Tuputech, one of the most powerful image recognition companies in China, gave a first try to this field through deep learning technology and gained applauses from many Chinese live stream platforms and other customers such as China Unicom, Inke, Musical.ly, and Xunlei. Actually, image recognition is a promising field according to the study named "Revenues from the artificial intelligence(AI) market worldwide, from 2016 to 2025 (in million U.S. dollars)" made by Statista Charts. It shows that in next decade, the investment in application of image recognition remains to be the highest.
As a branch of computer vision, image recognition has definitely been fully utilized into each possible commecial scenes. But that's not enough. Creative enterpreneurs have began to focus their eyes on an emerging field—new retail. In July 2017, Alibaba opened its first cashier-free retail store, Tao Café, in Hangzhou. Customers can enter the store after obtainig a machine-readable QR code entry ticket throught their Taobao account, and going through the facial recognition system at the store. Abundant reports have shown that achieving new retail cannot be seperated from business intelligence, a kind of enterprise solution that integrates computer vision, data analysis and other technologies. Some unmanned convenience stores have their own business intelligence technology to make new retail possible. But some others may choose the business intelligence solutions provided by reliable enterprises. And driven by this new retail trend, traditional retailers want to refresh themselves and improve the shopping experience through business intelligence as well. Therefore, many enterprises which provide such solutions emerges as the market requires.
And this new retail field is where Tuputech shows its aspiration as well. On the basis of the Internet, with the development of computing ability and AI, Tuputech is able to enable the traditional retail stores and new retail stores through its business intelligence solution. In the past, there were several problems haunting the traditional retail managers. For example, the customer data collected online and offline was difficult to be integrated. Simply referring to the online data, it was hard for the clerks to predict customers' consuming choices and give suggestions in the stores. Not distinguishing ordinary customers from VIP customers means it was unlikely to conduct precision marketing. And high management cost of stores is another headache for managers. But with Tuputech's business intelligence solution, such problems can be solved. Now some traditional retail stores such as some music restaurants and jewelry stores have enjoyed this service and see what miracles Tuputech will bring to them. As for our ordinary customers, if we step into a store, finding that clerk knows more about ourselves than we do and makes more precise suggestions, how amazing it is?
Browsing the development of AI in China, it is easy to find that AI has gone deep into every detail of life. For the coming 2018, rub your eyes and wait—what will happen next?
Media Contact
Contact Person: Kethen C.
Email: [email protected]
Country: United States
Website: https://www.buzzfeed.com/ketytyw/the-way-you-can-save-smart-3a32s?utm_term=.gdaWdYKeW#.bt0a95Lwa